Porta-Stor on "Sons of Anarchy" production set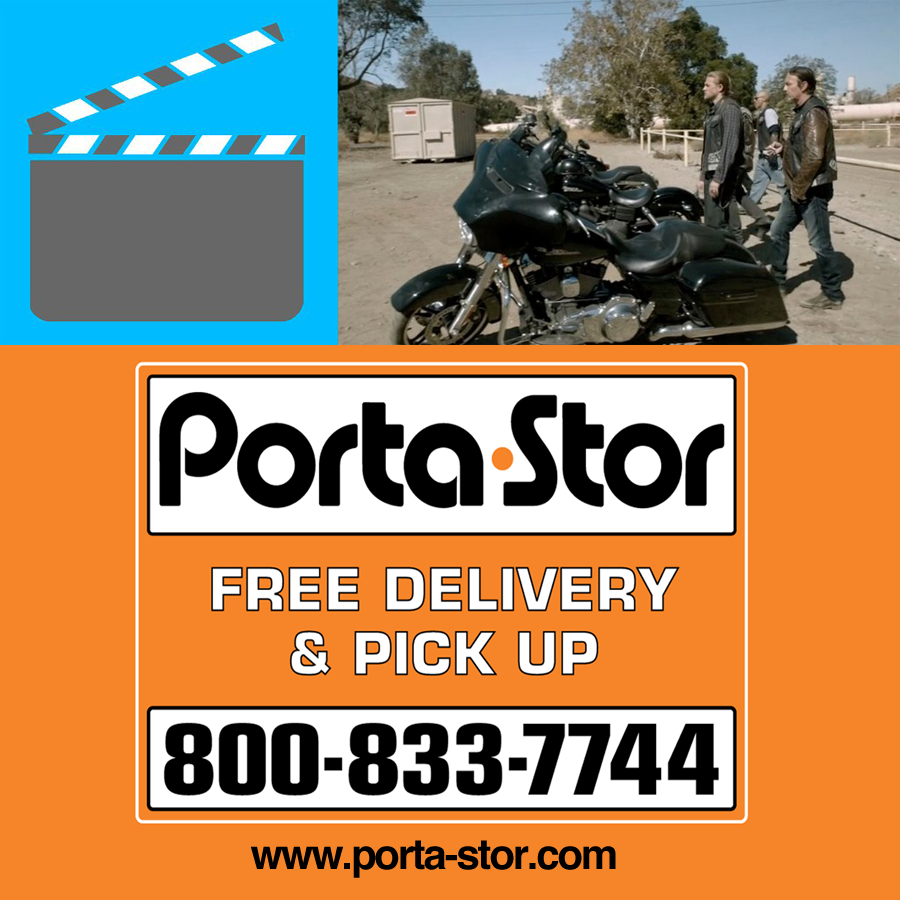 WHY CHOOSE PORTA-STOR FOR YOUR MOVIE SET STORAGE NEEDS?
One of our containers was sighted at an on set location during an episode of the top-rated FX network's series "Sons of Anarchy". With most of our employees being fans of the show you can understand our excitement when we were watching it and saw our storage container in the background. This particular location was shot in Santa Clarita, CA, which is also one of our service areas. Although Sons is now off air, our employees were diligent watchers and saw this episode while it was still airing. Are you wondering which episode the container was in so you can watch it? It was Season 7 (sadly the last) episode 9.
On location productions always have need for storage space so they can store props, costumes, clothing, furniture and perhaps even motorcycles. Being water tight and resistant to the elements the containers are perfect for keeping anything stored safe. If you're concerned about dust then our premium 26x8.5 container is air tight to keep that dust out and keep your contents clean. We also rent office containers which can be used for script writing, makeup artists, directors and more. They are equipped with electrical hookups, heat, A/C, security doors & windows and lights.
Porta Stor delivers great customer service and the best prices around. We also deliver and remove our containers for Free! There are also no hidden fees or taxes. Being in business for 40 years we know how to please our customers. Call us today for more information or to rent your container today!
EXTREMELY DURABLE WATER & AIR TIGHT
Porta-Stor containers are extremely durable and weather resistant. Each container is equipped with an enclosed locking system to protect your material from theft. Our movable pipe
racks
are perfect for making shelves or storing long items such as pipe or finish material. Most of our containers can be moved from one place to another, known as a "Respot", if need be.
FREE DELIVERY FREE REMOVAL
Porta-Stor requires a non-refundable 2 month minimum. After the first two months we automatically bill month to month. When you are finished with the container we will prorate to the amount of days that you have the container for the last month. We have NO sales Tax, NO hidden fees, NO setup costs and NO fuel surcharges. Porta-Stor offers
FREE DELIVERY & REMOVAL
of all their storage containers!