Learn About Our Racking System
We get a lot of questions about our racking system. What is it exactly? How does it work? Do I need it? Does it cost extra? What length & width of plywood should I have for the racking system? Where should I store them if I don't end up using them?
First off let's explain what they are. Our racks are a bracket/shelf system that can be installed (without tools) inside of our Roll-Off containers. They are metal pipes & bars welded together in a way that creates brackets so you can place plywood on top of them to create a shelving system inside the container.
The racks are three tiered which makes three heights for shelves. They are great if you have smaller items that need to be stored off the floor and/or if you want to be more organized. Contractors, homeowners and retail stores take advantage of the shelves by storing their tools, small boxes, household items and more.
Indentations inside container.
Close up view of indentation
that racks are installed into.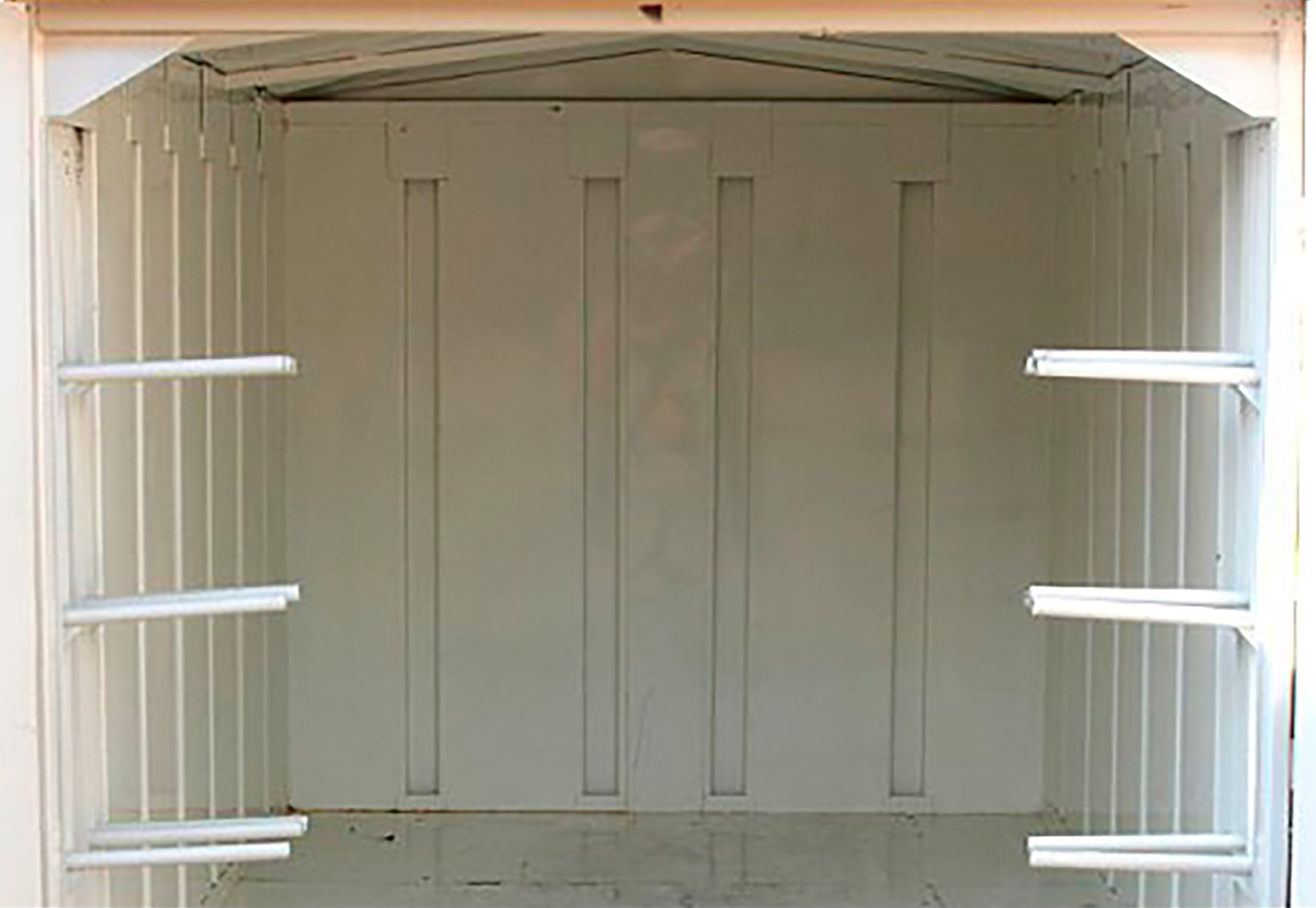 Racking system installed.
The racks are best for long term storage, construction projects or retail applications for seasonal items. Racks are NOT good if the container is going to be moved as the plywood could potentially shift and items could fall. They are best if the container is going to stay in the same spot the whole rental period.
Our racking system is free of cost for anyone renting our Roll-Off containers. The Roll-Off sizes are 12, 22 & 26 foot (the racks CANNOT be installed in our 20 & 40 cargo style containers). We provide either a half set (which provides shelves for one side of the container) or a full set (which provides shelves for both sides of the container).
Although we provide the racking system we do not provide the plywood that makes it into shelves, you provide the plywood yourself.
Racks being used to hold metal
(no plywood).
Now that you have a better understanding of our racking system what is the size plywood you should get? Well it really is up to you but we will say 2x8 & 2x12's would be your best bet for all container sizes. How many you need depends on how many shelving tiers you want to take advantage of and we will leave that up to you.
What if you decide that you don't need to use the racks after you get them? We highly recommend that you make sure you really need them. When storing them we would like them to be stored inside of the container and they can be bulky and take up space. We also will not pick up the racks if you end up not using them since they are free of charge. So remember, be sure you really need them before you ask for them to be added to your order.
Our racks are available for all our customers in Santa Barbara, Ventura & Los Angeles Counties. Visit our service areas to see which cities & towns we deliver to.