Residential Storage Containers in Altadena
Are you wanting to start that remodel need to do that spring cleaning or just need extra space? Porta Stor can help you with your residential storage needs. We provide clean, secure, high quality steel containers that will protect your inventory from the elements. We offer five sizes and four of the five come with a pipe racking system free of charge if needed so you can create shelves for better organization. Learn More About Our Containers Typical storage applications implemented by Retail households may include:
Lawnmowers
Kitchen knick-knacks
Bedroom furniture
Living room furniture
Bicycles
Households big and small have made use of our storage containers. Contact Us with questions or to arrange for delivery to your home. With our free delivery and removal throughout Santa Barbara, Ventura and Los Angeles County we have the best prices around (compare here).  We will also transport containers between locations with our low cost "respot" fee, making us the best option for you.
Rent Residential Storage Containers in Altadena
Do you need to rent residential storage in Altadena California? Call Porta-Stor to rent a portable steel container delivered to Altadena, California. Our containers are all-steel and come in roll-off or cargo style, depending on the size. Free container delivery and removal is provided in Altadena as well as all 95 other cities in our Service Area. Do you need your storage container relocated? Contact Us to inquire further.
If you need to rent portable storage containers in Altadena California, Porta-Stor has you covered. We have been locally owned & operated since 1975. We provide clean, secure & economical storage containers. Our clients rent portable storage containers for commercial facilities, construction sites, retail stores, and residential homes in Southern California.  Porta-Stor gives you the space you need! WE SAVE YOU MONEY! We have NO sales Tax, NO hidden fees, NO setup costs and NO fuel surcharges. Contact us today for more information for portable storage rental in Southern California. We look forward to serving your portable storage rental needs! When looking for Portable Storage Container Rental in Altadena California, Porta-Stor has you covered.
OUR CONTAINERS ARE INVESTMENTS FOR YOUR FUTURE! Porta-Stor provides free delivery to our Altadena California customers. Whether you have a small-scale renovation project, large retail commercial business or any size construction site, we are committed to helping you create more space. We also provide portable storage rental for manufacturing and distribution centers in Altadena California. We always offer FREE DELIVERY & REMOVAL for all of our clients in Southern California. We guarantee competitive and timely quotes at an affordable monthly rental rate for our portable storage containers which have made us one of the most outstanding storage container companies in Altadena.
Portable Storage in Altadena

Altadena is a town located in Los Angeles County. It is home to Christmas Tree Lane which is a .7 mile stretch and has been a holiday attraction since the 1920's. In fact it is the oldest large-scale outdoor Christmas lighting venue in the world. When extra storage is a need we want you to know that our containers are your best bet. Our storage containers are weather resistant which will keep any documents or items you need stored extra safe. The containers also use a double lock system, this protects each containers contents from theft. We also provide container relocation within Altadena or to other locations in our Service Area.
Please Contact Us to rent portable storage containers in Altadena or with questions about our container rental, delivery, and removal policies.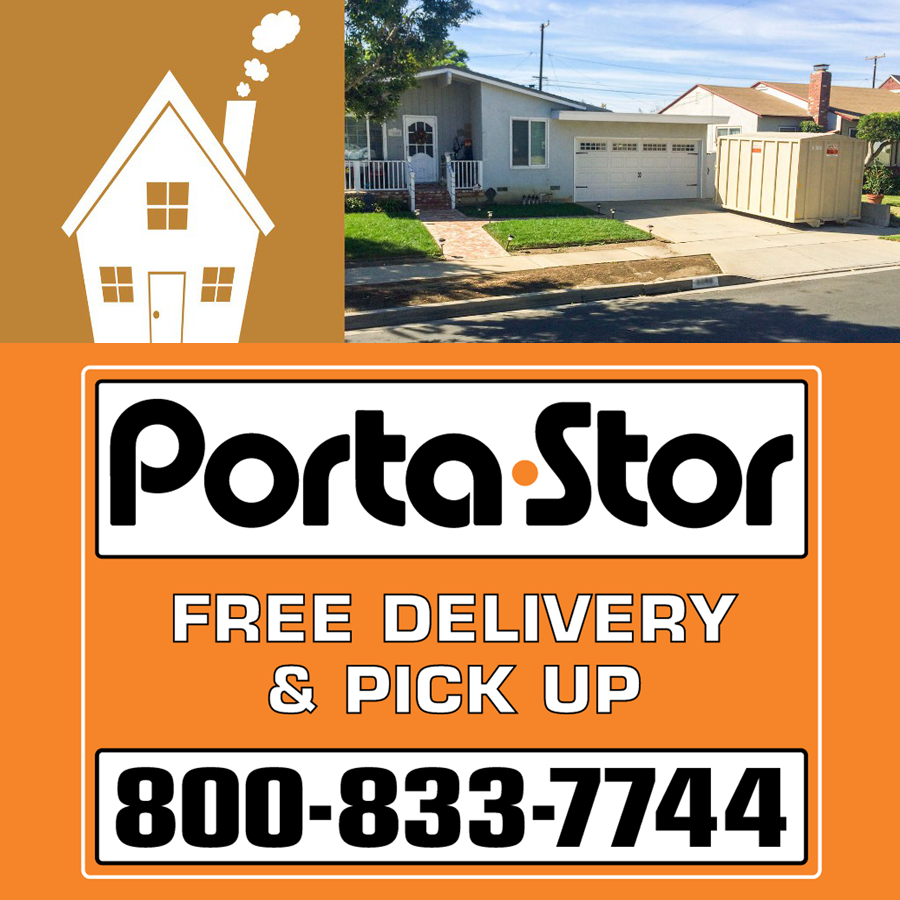 Order A Portable Storage Container
EXTREMELY DURABLE
WATER & AIR TIGHT
 Porta-Stor containers are extremely durable and weather resistant. Each container is equipped with an enclosed locking system to protect your material from theft. Our movable pipe racks are perfect for making shelves or storing long items such as pipe or finish material. Also most of our containers can be moved from one place to another, known as a "Respot", if need be.
FREE DELIVERY
FREE REMOVAL
 Porta-Stor requires a non-refundable 2 month minimum. After the first two months we automatically bill month to month. When you are finished with the container we will prorate to the amount of days that you have the container for the last month. We have NO sales Tax, NO hidden fees, NO setup costs and NO fuel surcharges. Porta Stor also offers FREE DELIVERY & REMOVAL of all storage containers.
Contact us today
1-800-833-7744
330 W Park Row Ave
Ventura, CA 93001