Tips for Organizing After Moving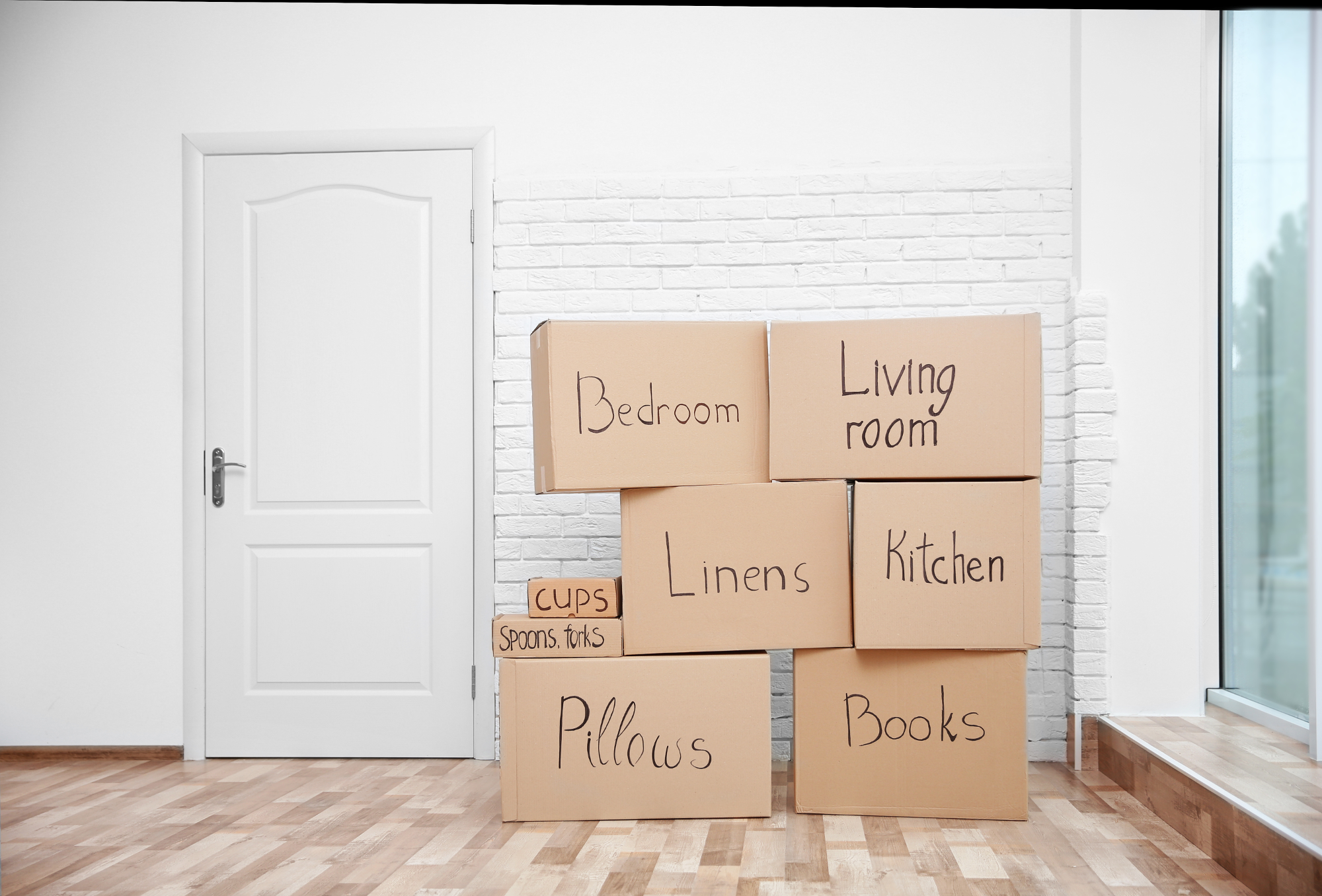 You've finally moved all of your stuff into your new home. No small task! But now that the initial battle round is over, you are standing around and looking at mountains of boxes, wondering where to start after moving. If you organized your belongings while you packed and labeled the boxes well, you're off to a good start. Those boxes should be sorted into the rooms where they will be unpacked. But how exactly do you start unpacking and organizing all of this stuff? Your things will fit differently in your new home, and you may find that you do not need some items that you did in your previous one.
It's helpful to tackle one area at a time. Which places you unpack first depend on what's most important to you and your family.
Children's Bedroom
If you have small children, it's good to start unpacking their rooms first. The most obvious reason is there are toys and belongings that will help keep your child occupied as you organize the rest of your home. It will also help the child adjust easier if they have their familiar belongings with them from the start. By setting up your child's bedroom or nursery first, you are creating a safe place for your child to go if things get overwhelming or confusing after moving.
This is also a great time to do another purge of toys and clothes that your child has outgrown or no longer plays with. Start fresh in your new home with only what your child needs and uses. If you want, you can find more tips for moving with small children here.
After the kids' bedrooms are set up, make sure you also set up your own before it's time to crash for the evening.
Kitchen
If you do not have a child's room or nursery to set up, the kitchen should be your first priority. As you start to unpack, get the things put away that you will most likely reach for first, like plates, glasses, utensils, cutlery, and dish towels. These items should be stored in areas that you can easily access.
Your pots and pans should be stored in a cabinet right by the stove so they are easy to access when needed. As you unpack your dinnerware, be sure to place the most used items (plates, cereal bowls, coffee mugs, etc.) on the lowest, most easily accessible shelves.
Think about how you want to organize your countertops. All of those small appliances take up so much space! Check and see if you have an extra cabinet that you can store some of these in while still having easy access. If you are a big coffee drinker, you might want to set up a separate little area in your kitchen as a coffee bar. If you don't have enough space on the counter, get a rolling or stationary cart just for your caffeine. Hold all things coffee in the designated spot: the coffee pot, French press, creamer, sugar, mugs, and more. This will open up cabinet space for other things, and will help make your mornings go smoother as you grab your coffee and start the day.
As you stock up your pantry, think about using a lazy Susan to hold all of your extra condiments. This takes up less space, and you can just turn and grab for whatever you need. Use baskets for bread and other fast breakfast foods.
If you put these ideas into motion when you first move in, it will make the flow of the kitchen much easier as you settle into your new home.
Electronics
For many people, their electronics are one of the first things that need to be unpacked and set up in a good location. Computers, televisions, tablets, phones, iPods, cords, cables...for many families, the list of crucial gadgets is endless, and if you do not set up a good spot as soon as you can, your home will become a tangled, confusing mess of cords and chargers. Find a drawer or basket in which to store extra cables and cords. You might find it helpful to set up a charging center so all the gadgets are easily located in one spot.
So now your cords are in one area, but they are still a tangled mess. This is a great time to take some toilet paper tubes and place the wrapped cords inside those before you forget about them. This makes them easy to find, plus they are less likely to get all tangled up, and you can label them.
Linen Closet and Medicinal Space
In the crazy days of those first weeks after moving, you will be grateful for the ability to clean up in a shower, sleep in a freshly made bed, and find your medication if you get a headache. (If towels, sheets, and aspirin are not easy to locate, you will for sure get a headache!) As you unpack the towels and sheets, go ahead and wash them before placing them in the closet to remove any dust and debris from moving.
As you go through and put all your medications away in your medicine cabinet, check the expiration dates and throw out anything that is expired. To add more space, consider adding stick-on clear organizers to the inside of the cabinet door. These can hold bandages and other small items, leaving shelf space for other things. If you do not have a medicine cabinet in your bathroom and need to store these items in your linen closet as well, think about using a spice rack, or you can use some plastic bins from the dollar store to keep similar medications organized and together.
Laundry Room
As you are washing up those linens you unpacked, it is a good time to get your laundry area set up. Along with the laundry soap and stain remover, this is a great place to store other cleaning products too. If you are tight on space to store those things, think about setting up a narrow rolling cart to hold all these items and slide it in between or nearby your washer and dryer. By doing this, you will corral all the items you need, and they will always be just a short reach away when you do laundry.
Entryway
A small table with a bowl to toss your keys into along with one or two baskets to corral all the shoes at your front door will help organize your home from the minute you walk in. Add a couple hooks or a coatrack to hold jackets, purses, and backpacks, and you are good to go. It's also a good idea to set up an area for dirty shoes, especially if people are trudging in and out of the house while moving in wet weather.
Think of these ideas as you unpack and settle in to your new house. They will help you fall into the great habit of keeping an organized home. Setting up the bedrooms, bathrooms, kitchen, and electronic areas first maximizes the spaces you will spend the most time in, and will help you feel relaxed and ready to tackle all the other boxes sitting in front of you after moving.
If you want more moving tips from Porta-Stor, check out this moving checklist!